If you're reading this, it's probably because you've decided Lake Tahoe is the perfect place for your next home. We can't blame you! Lake Tahoe is an idyllic destination that attracts people from all over the world. The lake is beautiful and serene, but its surrounding communities make it so appealing. So which Lake Tahoe community is right for you?

The answer depends on what kind of lifestyle you want. Do you want a bustling city where there's always something to do? Or would you instead settle down in a quiet town with plenty of opportunities for hiking and other outdoor activities? We've done the research to help you decide which Lake Tahoe community is the best location for you to call home.
Zephyr Cove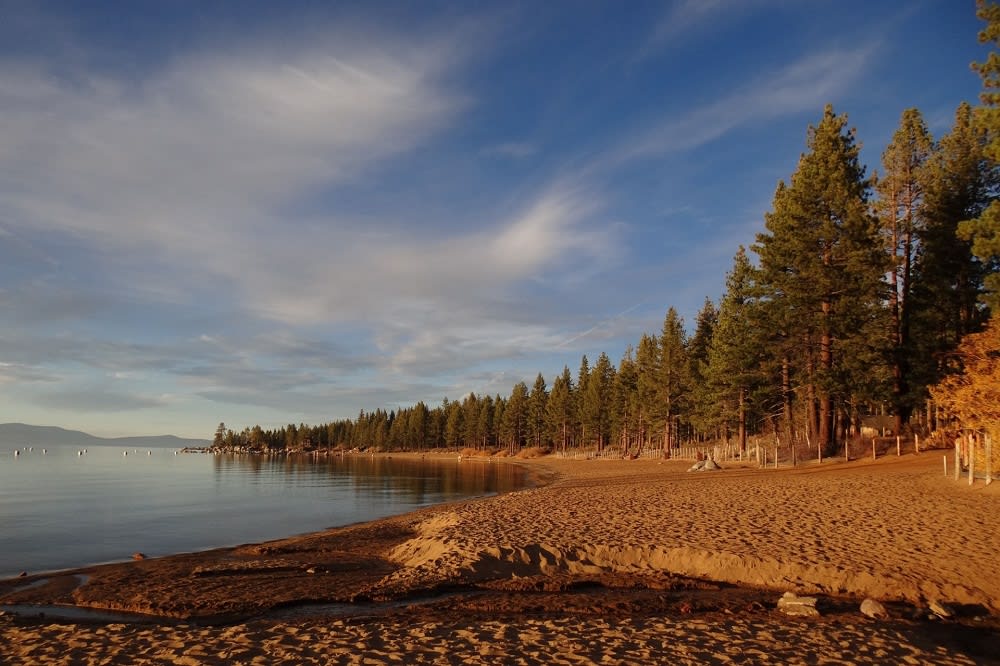 Zephyr Cove is a tranquil and secluded community with an upscale vibe. Nestled in the magnificent mountains on the southeast side of Lake Tahoe,
Zephyr Cove
offers all of the amenities you could want from a community. Zephyr Cove real estate is top-quality, and the panoramic views are pretty incredible. The quiet, peaceful atmosphere of this community is unmatched.

M.S. Dixie II is the top attraction at Zephyr Cove. The impressive 400-passenger cruise liner is the largest on the lake. Guests can enjoy a scenic daytime trip or a romantic sunset cruise on Lake Tahoe's crystal blue waters. Zephyr Cove Stables is a family-owned stable home to 75 deeply loved horses. Horseback riders can take in the stunning beauty of the Sierra wilderness while on one of the stable's many guided horseback riding tours. The Zephyr Cove Resort and Marina is perfect for beach lovers, couples, and families. Over a mile of soft, sandy beach opened for a day of swimming, volleyball, paddle boating, and sunbathing.
Incline Village
Nestled in the Carson mountain range,
Incline Village
is a high-elevation destination filled to the brim with outdoor luxury. The community houses a mix of charming cabins and lavish lakefront mansions built against the picturesque Sierra backdrop. Lakeside adventures and the community's exceeding comfortability draw in nature enthusiasts year-round.
Attractive offerings sprinkle the shores of this four-season town.
Lake Tahoe State Park
is just a few miles south of Incline Village and boasts gorgeous foliage on the lake. Locals flock to Sand Harbor for a relaxing day in the warm sun and refreshing water. Incline Village is also home to charming eateries, including Chopsticks, Austin's, and Mofo's Pizza & Pasta, a local favorite.
Kings Beach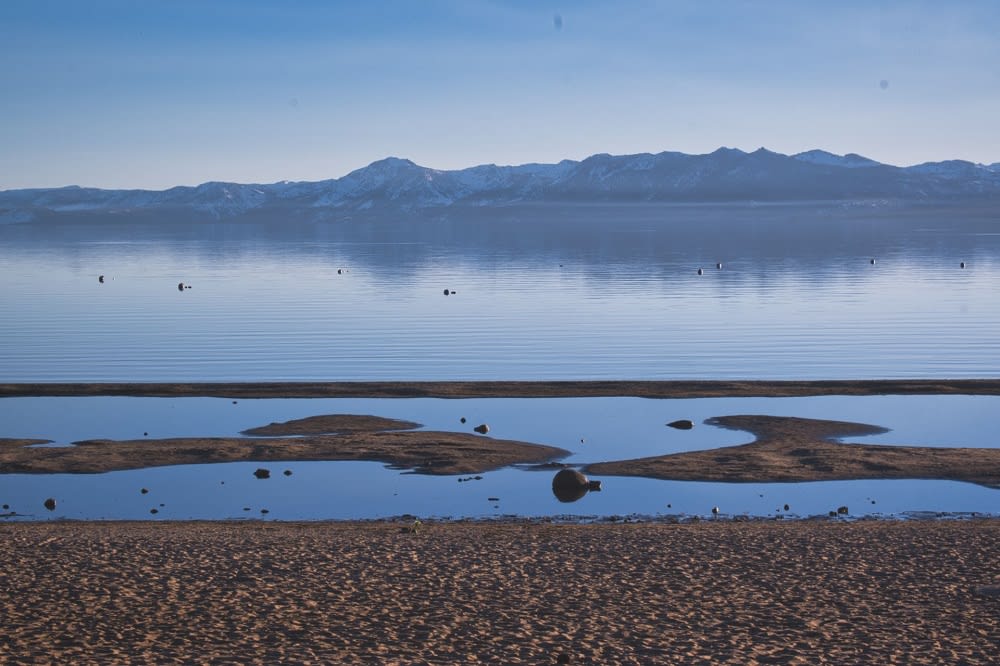 With over 1,500 feet of beachfront,
Kings Beach
is the largest public beach in the North Tahoe area. The densely populated location sits right on the border between Nevada and California and is the perfect destination for water sports and regular outdoor picnics. The offbeat lakefront town holds its roots, with its main road flanked by quaint hotels, antique shops, and vintage restaurants. Property types range from luxurious beach-view condominiums to sprawling waterside homes, perfect for couples and families.
King Beach is a summer crowd haven offering light, deli-style burger meals. However, Caliente! serves up some local spice with tasty margaritas and enchiladas.
Kings Beach State Recreation Area
is perfect for easy kayaking, snorkeling, and paddleboarding. You can also catch a birds-eye view of Lake Tahoe by parasailing with North Shore Parasail. The town's nightlife dims compared to its neighboring cities, but residents frequent Streamers for late-night casual hangouts.
Truckee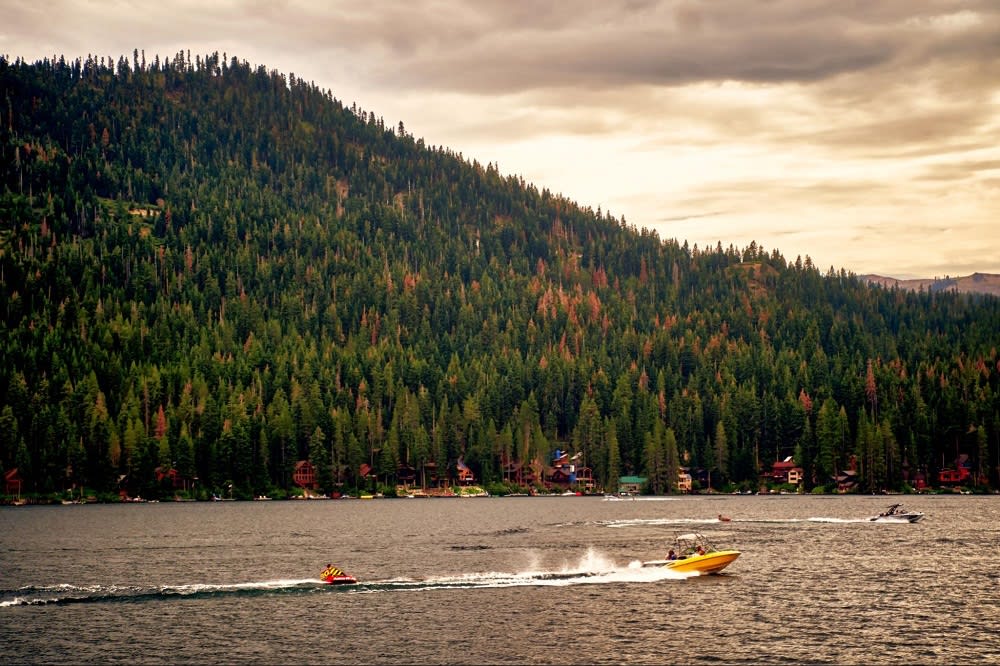 Once a tiny bustling mining town,
Truckee
is filled to the brim with hidden historical gems and plenty of outdoor fun. Located north of Lake Tahoe, Truckee is an affluent community surrounded by the snow-capped Sierra mountain range. Cabin-style mansions pepper the snowy grounds, perfect for cozy late-night pit fires and joyful family gatherings. Though quaint, Truckee is a big energy town influenced by its rich historical roots. Truckee borrows its name from a heroic Paiute Indian chief and is best known for ice harvesting and logging. The community also boasts several local galleries, restaurants, boutiques, and monuments.
The wealthy town offers plenty of activities for the winter and summer. The
Sugar Bowl Resort
, Northstar California Resort, and Donner Ski Ranch are just a few of the many elite ski resorts skiers and snowboarders of all skill levels can purchase season passes. Tour companies like
Sierra Adventures
provide thrilling kayaking and rafting tours suited for any adventure tolerance.
Donner Memorial State Park
is home to Donner Lake, another large lake in the area. During the summer, sunbathers and whitewater rafters sprinkle the lakeshore, quenching their thirst for some fun in the sun.
Crystal Bay

Want to visit two states at the same time? The Nevada/California state line splits Crystal Bay, and you can hop state lines in just a few short strides. The wealthy suburban town is known for its live entertainment scene and its world-class casinos. Think Sin City, but in the mountains. Homes range from lush condominiums with private marinas to picturesque lakefront estates. Nestled in the dramatically sloping mountainside overlooking Highway 28 and Lake Tahoe, Crystal Bay offers some of the most sought-after dining and shopping experiences and sensational lake views.
Lauded as one of the top dining locations on the North Shore,
Crystal Bay Steak & Lobster House
specializes in Australian Rock Lobster and luxury dining services. The Tahoe Adventure Company hosts high-quality water and land tours that explore Lake Tahoe's natural beauty and surrounding wildlife. If you're feeling fortunate,
Crystal Bay Casino
is the perfect place to try your luck.
With so many beautiful and unique communities in Lake Tahoe, it can be hard to choose just one. But with the help of a real estate expert like Cole Mizak, you'll be able to narrow down the options and find the right community for you.
Contact Cole Mizak
today to learn more about
Lake Tahoe
luxury homes for sale!