With USA Today calling
Lake Tahoe
America's best lake, there's no doubt the body of water is breathtakingly beautiful, and the amenities are expansive. Because it offers both summer and winter activities, it should not be a surprise that it tops the leading newspaper's list.
The stunning lake — a massive 192.6 square miles and the second deepest lake in the United States — is nestled in the Sierra Nevada Mountains and bordered by parts of California and Nevada. With gorgeous views that bring together crystal-blue water and forest-covered mountain, the scenery is unprecedented, no matter the time of year.
Lake Tahoe lakefront homes for sale are enticing pieces of real estate, especially if you are a year-round adventurer and love to ski or snowboard as much as you adore swimming or jogging along the beach in the summer.
While there is much debate about which beaches are the best on Lake Tahoe, sunbathers heading for public beaches cite the North Shore's
Sand Harbor Beach
, which is a 55-mile mecca for swimming, picnicking, and SCUBA divers, and the South Shore's
Baldwin Lake
, featuring gorgeous views and a half-mile of sloped, sandy beach. The dog-friendly
Kiva Beach
is also popular.
Private Shores
But more discerning beachgoers inhabiting beachfront homes along Incline Beach will no doubt prefer more private beaches from which to enjoy everything the beaches have to offer. Some stellar beaches are in restricted-access neighborhoods, most of them found along the waterfront in
Incline Village and Crystal Bay
.

Perhaps the best beaches are run by the Incline Village General Improvement District, which maintains the beaches and offers limited access to residents in the area and their guests.

Incline Beach

Many of the beachfront homes along Incline Beach have taken inspiration from the surrounding elements of nature — especially the luxury condos, which offer focal-point fireplaces, spacious rooms, and a union of woods and water that has a cozy, rustic feel that's thoroughly approachable. Other homes merge modern and rustic with subtle touches such as beach-inspired shiplap walls and specific pieces of furniture that celebrate the woods that help create more privacy between houses, so all residents can feel as though they have their own secluded piece of paradise.

Incline Beach includes a swimming area with a great sandy beach, picnic areas, a playground for the kids, and a snack and adult beverage bar. Drinks are also available beachfront if you're feeling too relaxed to make the trek to the bar.

Ski Beach
Ski Beach
is the one that has it all. It offers miles of lakefront, making it a great place to look for Lake Tahoe waterfront homes for sale, but there is also a creek meandering through with beautiful shaded trails for hiking or walking to take in a sunset on the water. Ski Beach also features a boat launch and is excellent for canoeing and kayaking.

Burnt Cedar Beach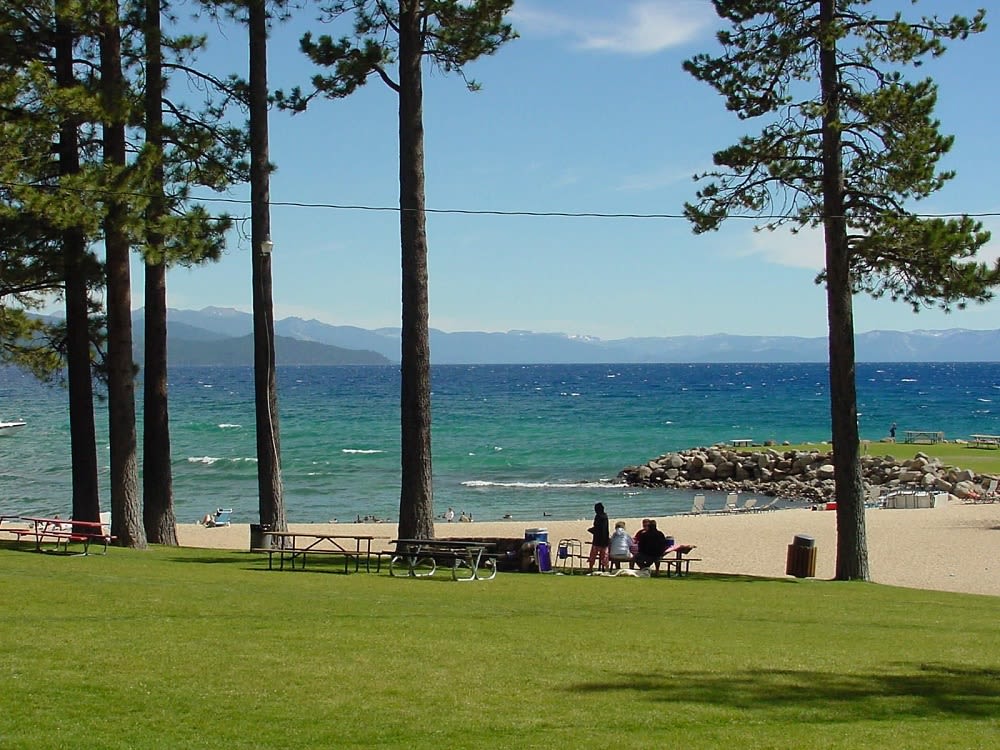 This Incline Village beach
is excellent for families and a great place to check out beachfront homes. It has a heated pool, a kids' playground, and a snack bar — all needed to keep the kids occupied.
Also, access is restricted and managed by Incline Village General Improvement District; only residents with IVGID credentials and their guests are allowed, creating a bit of privacy for those who want to take advantage of the pool. There is also a small cove for swimming, just off a small, sandy beach, which might sound more enticing.
The park also provides benches, multiple barbecue grills, group picnic areas, and a full-service outdoor bar that offers cocktail service on the beach.

Hermit's Beach
The smallest of the restricted-access beaches, Hermit's Beach is located near the
Hyatt Regency Hotel
. Incline Village residents and their guests and guests at the Hyatt Regency are welcome to use the beach.
Secluded Beaches

A few beaches along Lake Tahoe are secluded, made for the adventurer at heart, and require a bit of a hike to reach your destination. But for each of these beaches, the experience is worth the effort.

Skunk Harbor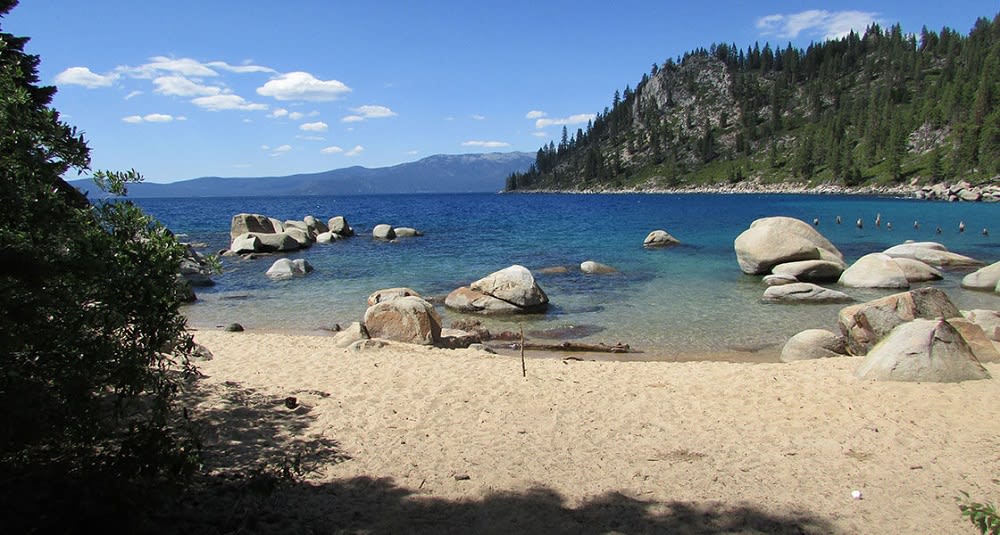 Skunk Harbor
is tucked away, and you'll have to be prepared for a 1.5-mile hike or mountain bike trek on an old fire road. When you reach the fork in the fire road, turn left at meadows bursting with wildflowers and right to reach Skunk Harbor.

Secret Cove
The hike is less than a mile to
Secret Cove
, a Lake Tahoe waterfront that doubles as a nude beach, so you might want to keep the kids at home. However, clothes are optional, and the lake views are magnificent, with tree-studded shorelines and cobalt blue water.

Whale Beach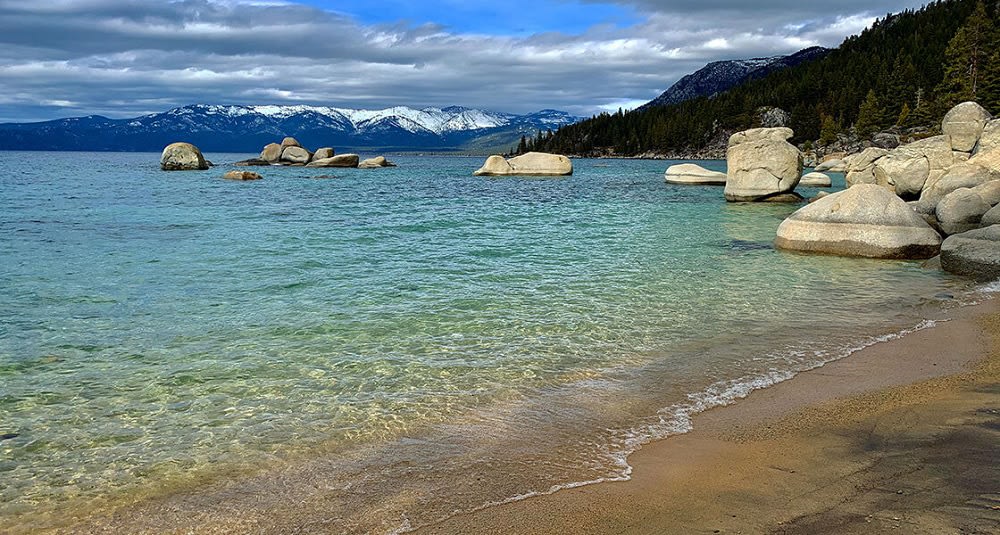 If Secret Cove is too crowded (or you'd rather skip the nudity), walk another mile, and you'll reach
Whale Beach
. Because it is farther away, Whale Beach is ideal for a romantic picnic or a secluded swim in the lake.
Has Lake Tahoe captured your heart?
If you're thinking about a seasonal or permanent home in Lake Tahoe, contacting an experienced
real estate agent
like Cole Mizak is the most important move you could make.
If you choose a Compass agent, sellers have access to Compass Concierge, which covers the cost required to ensure that the Lake Tahoe waterfront homes for sale that you're touring will be turnkey-ready, with updates that make sense to sell the house more quickly.
Contact expert agent Cole Mizak today
to get started on your next real estate journey!